---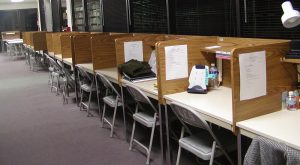 12. Private bookshelf:

(Temporary facility, replace study carrel service)

A. Eligibility:Full-time doctoral or master students, and are willing to keep at least 4 days per week's library visit.

B. The user's guide of dedicated bookshelf: Follow user's regulation policies. Foods are prohibited in the library. Do not left library books on the shelf. Over three violations, the use's privilege will be terminated.

C. Library is not responsible for the books and personal belongings on the private bookshelf. Please keep important and/or expensive items on yourself, and not on the bookshelf. If the book lost is a Library property, patron is responsible for the cost of replacing the lost book.