General Circulation Books: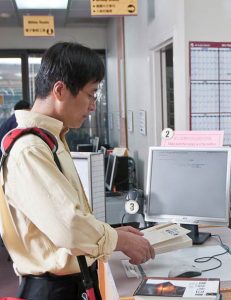 Patrons may borrow books with a valid Library ID at the self-checkout station.
Make sure the cursor is in the text box on the computer screen, otherwise please move the cursor to the text box.
Place Library ID card with the barcode face up under the red scan line, remove the card once your name is displayed on screen.
Place one book a time, on the RFID reading plate, remove book from RFID reading plate as
the book title appears on screen, place the book at standby area, and then process the next book.
Make sure every book has been scanned and listed on screen, then click the "Finish" button on the screen to log out, thus completing the check-out process.
Each book may be renewed online once if it is not held or reserved by others.
For each overdue item, there is a fine of $0.20 per day will be cumulated.
Media and Sunday School Materials:
The loan period is 21 days. Single volume tape checkout limit is two. Multi-volume title checkout limit is one set only.
Sunday school checkout limit is 5. Bible (Bible Collection) checkout limit is 5 as well. There is no renewal service for media and Sunday school material.
Patrons may check out media and Sunday school items by printing their names and stamping due date on the item card.
Place the card in the box at the circulation desk.
Please rewind media item after used, place return items to the 'Return' box at the circulation desk.
Please keep items in right place and use it the right way.
Overdue penalties and item damage processing fee are the same with circulation books.